Item request has been placed!
×
Item request cannot be made.
×
Processing Request
Welcome to quest
Getting started
You will have received an email from this address
Admin User (via quest) <library@nswact.uca.org.au>
with the subject
Quest: New user account
and the message
Dear xxx xxx
We understand that you have enrolled in a subject associated with United Theological College.
In order to gain access to the recommended readings for this course, a new account has been created for you at 'quest' and you have been issued with a new temporary password.
'quest' is our 'library' of online readings for your courses. You can find it on our Library Home Page
https://www.library.nswact.uca.org.au/
Your current login information is now:
username: xxxx.xxxx
password: xxxxxxxxx
(you will have to change your password
when you login for the first time)
To start using 'quest', login at
https://ctl.lms.ereserve.com.au/login/?lang=en

In most mail programs, this should appear as a blue link
which you can just click on. If that doesn't work,
then cut and paste the address into the address
line at the top of your web browser window.
The link below will take you to a step-by-step guide which explains more about using 'quest'.
https://www.library.nswact.uca.org.au/guide-quest
Please contact us at library@nswact.uca.org.au if you need further assistance.
Admin User
Please complete the registration process by logging in and updating your password.
How to find your readings in quest
As part of your studies, you'll find references to readings which are relevant for your subjects. But where do you find these readings? The answer is quest!
quest contains copies of book chapters and journal articles that have been selected by your lecturer specifically for your subjects.
You can find these readings in quest. Anything your lecturer has asked us to make available for your subject will be located here.
You can find Quest on the library website homepage.
When you click on the quest logo, a new window will open. Choose your subject from the list of Available courses.

Then you will be asked to log in.
Once you have logged in, you will find a variety of resources relevant to your course.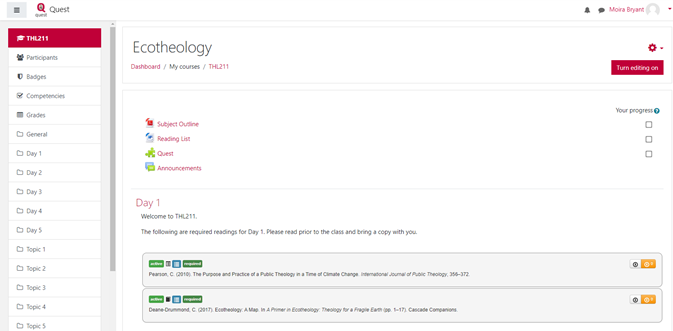 Subject Outline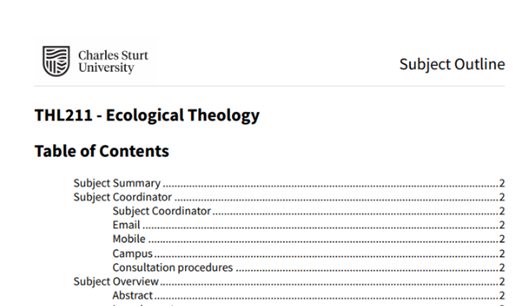 Reading list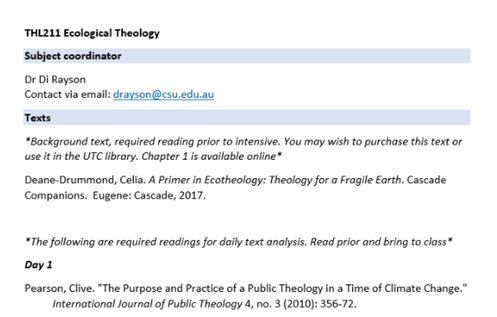 Course readings
Some of these might relate to required readings for different stages of your course. Some might be additional helpful resources.

Beside each item you will find a download button which will allow you to download and print the resources.
Please contact us at library@nswact.uca.org.au or on 02 8838 8940 if you need any assistance with quest.